Christmastime at Disneyland
Happy Holidays! Disneyland went all out on new holiday foods this year and I can't wait to share them with you. Grab a hot chocolate and get cozy because the holiday season at Disneyland is here!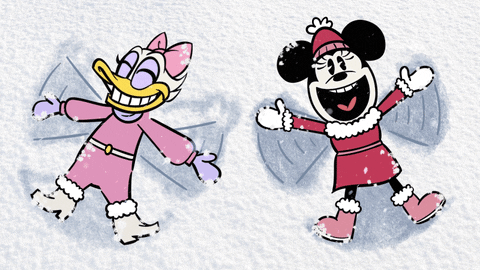 Holiday Decor


First things first let's take some time to appreciate these gorgeous holiday decorations across Disneyland and DCA.
The castle is decorated with garlands and lights, just like Main Street. They look even more beautiful at night. The poinsettias around Walt's statue add a pop of color, and of course we can't forget the massive tree. The Disneyland tree is at the beginning on Main Street, so you get a lovely view either way you look. The tree in DCA is just as grand. Every land has a little something special for the holidays, but as always Carsland outshines them all. Every nook and cranny is redone with holiday decorations. We could've spend the whole day there!
One unique experience I recommend for younger visitors, or older visitors with a childlike spirit, is the Redwood Creek Challenge Trail during the holidays! They created a really fun scavenger hunt/word scramble that if you complete you can receive stickers and a postcard. The postcard was very high quality for how easy/fun the puzzle was.
Must Try Foods
Disneyland
Starting the list off strong with potentially the best seasonal snack Disneyland had to offer this year, we have the Caramel Pecan Cheesecake Stuffed Pretzel from the Refreshment Corner. I wouldn't usually recommend getting a theme park pretzel, as they tend to be stale and not the most exciting snack. This pretzel exceeded all expectations! It was served warm, and the filling made it so that it wasn't dry at all.
The Jolly Holiday Bakery always has incredible seasonal offerings, and this year was no different. It's impossible to choose what to get here, since there's always so many desserts and sandwiches, so I narrowed the list down to my top two recommendations. The Thanks-mas Sandwich was the perfect meal to remind you of Thanksgiving leftovers. It was tasty and very filling. For dessert, the Apple Pecan Doughnut was delightfully soft and light. The filling was creamy and the apple flavors were fresh.
A tip for when visiting The Jolly Holiday Bakery, the food is extremely popular here, and the line is always very long. If you plan on mobile ordering I recommend doing it as soon as you get into the parks. We arrived at 10am and the earliest we could mobile order was for 4pm.
Another savory meal (or snack depending on your appetite) you can find at the Disneyland park is the Charcuterie Pizza from Pizza Planet. Typically I would say the pasta is a better option than the pizza at Pizza Planet, but we decided to give this one a try. This slice was loaded with toppings, but a little bit too salty.
If you're looking for a pick me up, my final recommendation for the Disneyland park would be the Eggnog Cold Brew from Red Rose Tavern. The eggnog was not an overpowering flavor, but it was definitely sweet.
Must Try Foods
Disney California Adventure
Heading over to DCA, the list is a little bit shorter, since most of the foods are a part of the Festival of the Holidays (separate blog post coming soon!). I have four recommendations, and three of them are drinks! Starting with the snack worth checking out over at the Cozy Cone we have the Esquite Corn Fritters. These taste like fried street corn, and are a perfect shareable snack. They have a nice balance of sweet and savory as well with the cotija cheese on top.
I promised three drinks, but I only have two photos because the Caramel Toffee Horchata Cold Brew was so good I forgot to photograph it. I promise, it was beautiful with whipped cream, sprinkle toppings and all. You can find this one at the Cappuccino Cart. I will say this drink was extremely sweet, so if you actually want to taste the coffee I would recommend trying a different drink. This was more like a dessert than a coffee!
Last but not least we have these two beautiful milkshakes, the Chocolate Cherry Yule Log Shake from Schmoozies and the Gingerbread Milkshake from Flo's V8 Cafe.
The Chocolate Cherry Yule Log Shake was topped with a hazelnut chocolate yule log, and the Gingerbread Shake was topped with a gingerbread doughnut. Both were so delicious yet so messy. The toppings make these shakes a complete dessert, that will leave your sweet tooth more than satisfied. I would favor the Gingerbread Shake over the Chocolate Cherry, since I couldn't taste the cherry much, and I prefer a vanilla base over a chocolate base.
Holiday Shopping


It wouldn't be a day in the parks without spending way more money than you intended at the gift shops! The shops are filled with holiday decorations and gifts waiting to be bought for the whole family, it's irresistible. The ornaments and home goods section are particularly well stocked this time of year. One of my favorite purchases this year was Mickey shaped string lights, that I have decorating the apartment. I also snagged an adorable Christmas mug. There is no lack of decorations to bring home from the shops all over Disneyland and Disney California Adventure.
Fireworks and Shows
Although I did not get the chance to experience any of the holiday fireworks shows, I can say they are definitely worth watching if you love Christmas- particularly the castle show since they make it snow on Main Street! This is truly magical. I did experience the Wonderful World of Color- Holiday Edition and I would highly recommend it. It's a lot less crowded than the castle show, and is quite beautiful. The show blends traditional Christmas music with classic Disney winter scenes and characters. It's a lovely twist on the already lovely World of Color show.
Hope you enjoy Disneyland during this magical time of year, and Happy Holidays!